2012.03.04 Sunday
The Belle Stars - Sign Of The Times
The Belle Stars - Sign Of The Times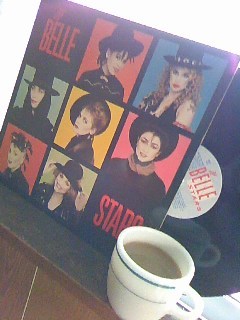 昨日、3月3日は「ひなまつり」でした。
で、色のきれいな雛あられをつまみながら聞いていた曲は、
女の子7人組、
ベル・スターズ
の「サイン・オブ・ザ・タイムズ」です。
その昔、「カッコよかったなぁ…」とは決して心から言い辛い
頭に渦巻き模様が描かれたヒーロー「カゲスター」の
同じ名前のパートナーのとは無関係です。。。
The Belle Stars - Sign Of The Times 歌詞
(Writer: The Belle Stars / 意訳: Bingo)
As I lie here thinking of you
I realize that nothing is new
   ここに横たわってあなたのこと考えても
   なにも変わったことが無いって実感するわ
Lying in my bed thinking of you
I realize nothing is new
You say you love me but want success
I say you're lying, nothing has changed
   ベッドに横たわってあなたのこと考えても
   なにも変わったことが無いって実感するわ
   あなたは私に愛しているって言うけど、望んでいるのは成功
   あなたは嘘をつき、なにも変わっていかない
This is the sign of the times
Piece of more to come
This is the sign of the times
Time to be alone
   これがその兆しなのね
   まだ始まったばかり
   孤独な時間のはじまり
We're strong in bed
You're weak in love
You give me nothing
More than a shove
I walk alone now thinking of you
I realize now nothing is new
   私たちはベッドでは強がったけど
   あなたは愛では劣ってた
   あなたは私に押す以上
   私になにも与えてくれなかった
   独りで歩いて、今、あなたのこと考えても
   なにも変わったことが無いって実感するわ
This is the sign of the times
Piece of more to come
This is the sign of the times
Time to be alone
   これがその兆しなのね
   まだ始まったばかり
   孤独な時間のはじまり
Why do we go on with this useless love-affair?
When it seems to me that you don't really care
I realize now nothing is new
Time to live my life without you, without you...
   なぜ、私たちはこの意味の無い恋愛関係を続けるの?
   あなたが気にしていないように思えるとき
   なにも変わったことが無いって、今、実感するわ
   もうあなた無しに生きる時、あなた無しで...
I sit alone now wondering about you
I'm living my life, what do you do?
You say you want me but need success
I want your love boy, want nothing less
   独りで座って、今、あなたのこと不思議に思う
   私は私の人生を歩むけど、あなたはどうするの?
   あなたは私以外にも成功も望む
   私はあなたの愛が欲しいけど、それ以上望まないわ
This is the sign of the times (The sign of the times)
Piece of more to come
This is the sign of the times
Time to be alone
   これがその兆しなのね
   まだ始まったばかり
   孤独な時間のはじまり
[関連記事]
2009.03.10
→
The Belle Stars ベル・スターズ
2009.03.03
→
The Bodysnatchers ボディスナッチャーズ
2008.08.12
→
2 Tone 2トーン
The Belle Stars - Sign Of The Times



MP3 Download ¥150